1. Overall Education Financing Mechanisms
2. Policies and Programmes to Provide Resources to Schools
3. Education Policies and Programmes to Provide Resources to Sudents and Families
4. Social Policies and Programmes to Provide Resources to Students and their Families
In Zambia, people have the right to free basic education including early childhood, primary, and secondary education. Vocational and general education will be progressively available to all.
The Ministry of General Education and the Ministry of Higher Education formulate policy and provide education in the country. In 2019, the education budget was 15.3% of the total national budget or 5.2% of the GDP. In 2019, there were 9.1m of school aged people. In 2017, there were 3.3 million children enrolled at the primary level and 851,000 children at the secondary level. 
In primary education, school grants are disbursed through decentralized units such as the District Education Board Secretaries (DEBS) to primary schools. In secondary education, school grants flow directly from the Ministry of Finance to individual and secondary schools accounts. Infrastructure funds flow from the Ministry of Finance to the Ministry of Education and to secondary schools' accounts. Salaries flow directly from the Ministry of Finance to individual accounts.
Although education is free, nearly 55% of primary grant-aided schools charge fees and 27% of students pay them. In secondary education 98% of schools charge annual fees of USD 18.4 (ZMW 275) on average per year and 60% of students pay that fee. Parents' expenditure in education covers tuition, PTA fees, textbooks, stationery, uniforms, private tuition, and others adding up to USD 1.4 (ZMW 17) for primary public schools.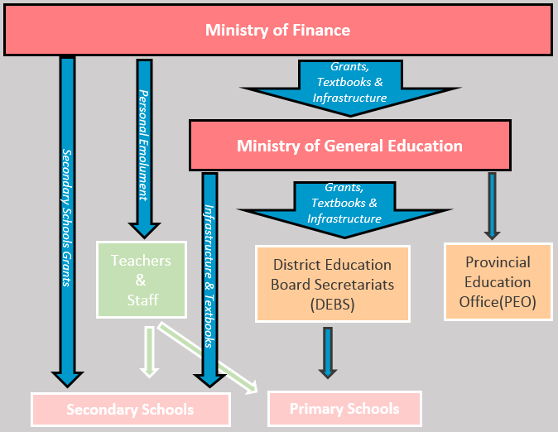 Cash flow for Primary and Secondary Schools.  Source: World Bank, 2015
Funds allocated to primary schools are determined by a formula based on 3 factors: school location (remoteness), gender ratio, and size of schools (enrollment). The provinces determine how much each factor contributes to the total grant amount. For example, in 2014, the allocation formula explained only 18% of the amount given to primary schools. However, in 2013, 28% of primary schools did not receive school grants. On average, each school received USD 1 (ZMW 15) per student. Funds for secondary schools' grants (which include the free secondary school grant) are not allocated using a formula, they are allocated evenly and consistently among provinces. The government accounts for 76% of secondary school provision.
Bursaries for Orphans and Vulnerable Children
This program aims to provide secondary education to orphans, women, and poor children. The bursary is disbursed annually and is used primarily to pay for examination and tuition fees. The funds go to schools with eligible children. In 2019, this program received USD 2.8m (ZMW 43.9m) or 0.32% of the education expenditure. The program aims to benefit 125,000 children or 3.78% of school-aged children every year.
The program started in 2003 and seeks to improve the learning outcomes of primary school students by providing meals at schools in the most vulnerable districts. The program uses a categorical and geographic targeting by focusing on 31 districts with high levels of food insecurity, HIV, poverty, malnutrition and low levels of educational achievements.
Schools receive meals that are then delivered to students. Students receive a daily meal with an estimated cost of USD 0.10 (ZMK 520) per day or USD 3.12 (ZMK 15,500) per month during 180 days of the school year. In 2015, the program benefited 890,000 children in 2,200 schools. In 2017, the program reached 1.1m students (or 33% of the school-aged population) in 2590 schools. In 2019, the program spent USD 2.6M (ZMW 40.5m) or 0.29% of the education expenditure.
The Directorate of teacher education and specialised services (TESS)
The Ministry of Education ensures equality of educational opportunity for all children with disabilities and is in charge of supervision and management of special education across the country. The Directorate has two sections: teacher education and specialized sections, under Specialized Services there are four units; Special Education (SE), School Guidance Services (SGS) and Zambia Library Service (ZLS). In 2019, the government allocated USD 349,081 (ZMW 5.3m) or 0.04% of the education expenditure.
The objective is to increase the levels of youth and adult literacy levels for out of school children and adult learners. The directorate of open and distance education (DODE) manages programs such as adult literacy centers, open and distance classes, correctional service centers, and colleges for open and distance education. In 2019, the program targeted to serve 70,000 people or 0.76% of the school aged population (3-23 years) and had a budget of USD 54,175 (ZMW 827,410) or 0.006% of the education expenditure.
Higher Education BursariesThe scholarship program began in 2004 as a loan program but so far, students have not made payments on their plans. It is implemented by the Higher Education Loans and Scholarship Board; the funding of this board depends directly of the Ministry of Finance. The program targets students in public universities or students who will be studying abroad. Students receive between US$3,200 (ZMW 19,000) and US$4,500 (ZMW 27,000) per year. The Department of Social Welfare assesses the financial status of applicants based on house visits and not on proxy means test. In 2019, the government allocated USD 36.4m (ZMW 557m) or 4.18% of the education expenditure and provided 5062 scholarships benefiting 0.15% of the school-aged population.
Keeping girls in school initiative
This initiative is a component of the Girl's Education and Women's Empowerment and Livelihood (GEWEL) project funded by the World Bank. GEWEL is implemented by three ministries and this initiative is the one focusing in education and implemented by the Ministry of General Education. The program seeks to increase girls' retention in school.
The project started in 2017 with a duration of  5 years. The program is set to spend US$ 25m to benefit 14,00 girls or 0.15% of the school-aged population. In 2019, the government allocated USD 2.9m (ZMW 45m) or 0.33% of the education expenditure.
The government provides bursaries to students who meet the criteria for vulnerability set by the TEVET Committee and the Ministry of Community Development, Mother and Child. In 2018, 4, 612 students (0.13% of the school aged population) received TEVET scholarships and in 2019, the government allocated USD 65,475 (ZMW 1m) or 0.007% of the education expenditure.  
The program started in 2010 with the objective of increasing the number of children enrolled and attending primary schools. Households receive USD 9.4 (ZMW 140) per month and households with people with disabilities receive double the amount.
In 2019, funding for the programme came exclusively from the Government. This program is part of the social protection allocation. In 2019, the government allocated USD 29.6m (ZMW 453m) or 0.52% of the national budget and is currently being implemented in all districts of Zambia reaching 632,000 households.
Public Welfare Assistance Scheme (PWAS)
The Public Welfare Assistance Scheme is the oldest social welfare program in Zambia. The program targets the 10% most vulnerable and poor households, elderly people; people with disabilities; children; and survivors of natural disasters. The program provides between USD 2- USD 20 on assistance including: food, clothing, health and education services such as scholarships for secondary school children, and shelter).
The budget allocation from this program is small: 19.5% of the social protection budget finances 6 programs including PWAS. In 2013, the budget allocation for the program was USD 1.6m or (ZMK 8bn). The program only covers a small percentage of the poorest of households. In 2015, the program reached 25,859 beneficiaries.
Validated by the country
No